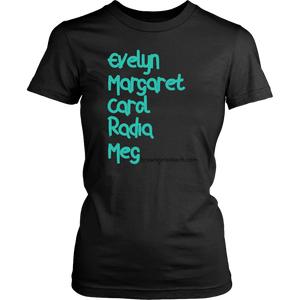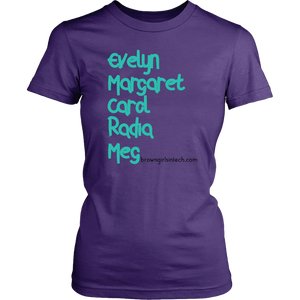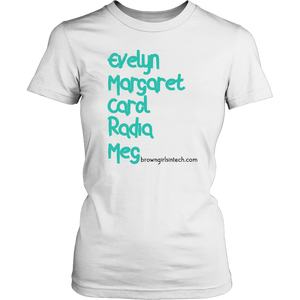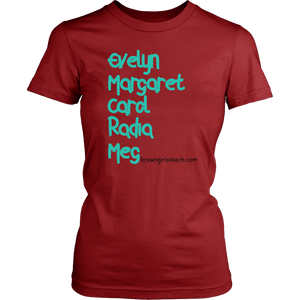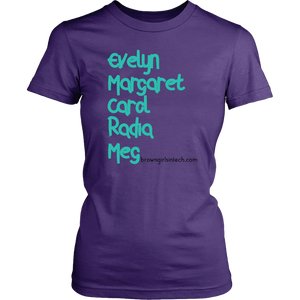 Pioneers - EMCRM
Spark a conversation about these leading pioneers in Technology when you wear this Tee.  
One part comfort + One part style= The perfect ladies tee
4.3-ounce, 100% ring spun combed cotton, 32 singles
Did You Know?
Evelyn Boyd Granville (1924 –)
Evelyn Boyd Granville was the second African-American woman to earn a Ph.D. in mathematics from an American University. She went to Smith college, Massachusetts, and later earned her Ph.D. in 1949 from Yale University. She started her career with a teaching position at Fisk University. She then joined the US space technology laboratories, where she helped US space missions by studying rocket trajectories and orbit computations. In 1967, she returned to her teaching career and continued her advocacy for women's education in tech for the remaining 30 years of her career.
MARGARET HAMILTON (1936 – Current, USA)
And staying with the women that propelled us into the space age – and who picked up Medal of Freedom honours to prove it – Margaret Hamilton designed the on-board flight software that made it possible for Armstrong and Aldrin's Apollo mission to land on the Moon. Hamilton is also credited with bringing the term "software engineering" into the public sphere and boosting its credibility and respect as a scientific discipline.
Carol Shaw (1955 –)
Carol Shaw is believed to be the first female video game designer. A graduate in electrical engineering from the University of California, Berkeley, she began her career at Atari Inc. She created some of the most popular games for Atari Inc. such as Polo, 3-D Tic-Tac-Toe, and River Raid.
RADIA PERLMAN (1951 – Current, USA)
If anyone could lay claim to inventing the Internet – and she insists no individual can – mathematician and inventor, Radia Perlman would definitely deserve to throw her hat in the ring. Some say she's the 'mother of the internet', though she's no fan of the phrase, but her invention of the spanning-tree protocol – a sort of traffic pattern for the internet to follow – made it possible for Ethernet technology to become a household name. Perlman has made numerous contributions to the internet as we know it and holds more than 80 related patents.
MEG WHITMAN (1956 – Current, USA)
Now at the helm of one of the biggest companies in computing, Hewlett Packard, Meg Whitman has been a force on the tech scene since she first started making waves at eBay in 1998. Whitman joined the online auction house when it was an infant in the digital retail space with just 30 employees, but after a decade of her leadership it had grown to around 15,000 employees and turned an annual revenue of $8 billion.